Recognition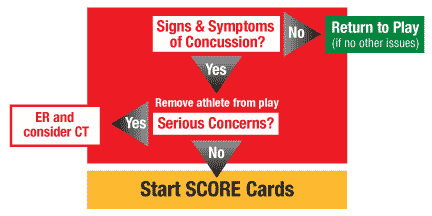 When a concussion is suspected, the first consideration should always be the athlete's safety. An athlete must STOP playing immediately to preserve the brain's functions and prevent further damage.
Coaches, athletic trainers, physicians or EMT personnel should use the SCAT5 concussion assessment tool on the sidelines to evaluate an athlete suspected of a sustaining a head injury.
Parents, family members, coaches, athletic trainers, friends, teachers and the athletes themselves should be alert to the potential symptoms of a concussion immediately after an injury and during the next few days.
Signs Observed by Others
Appears dazed or stunned
Is confused about assignment
Forgets plays
Is unsure of game, score or opponent
Moves clumsily or has slurred speech
Answers questions slowly
Loses consciousness
Shows behavior or personality changes
Cannot recall events prior to hit
Cannot recall events after hit
Signs Reported by Athlete
Headache
Nausea or vomiting
Balance problems or dizziness
Double or fuzzy vision
Sensitivity to light or noise
Feeling sluggish or drowsy
Feeling foggy or groggy
Concentration or memory problems
Confusion